Alumni Homecoming Day in 2018
Writer:dongke    Source:未知    Date: 2018-11-27
The autumn witnessed South China Agricultural University brimming with happiness and warmth. The Alumni Homecoming Day of South China Agricultural University in 2018 was held as scheduled. This year, the college welcomed 10 classes returning home, and nearly 250 alumni gather at their alma mater to recall the memorable years that belonged to them, express their friendship with the teachers and classmates, and draw up a plan for the development of the alma mater!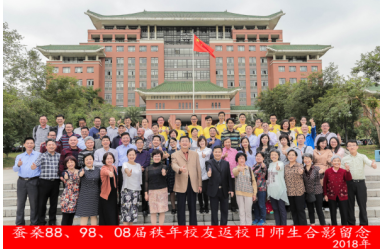 A group photo of teachers and graduates of 1988/1998/2008 majoring in Silkworm
The meeting hall was overflowed with a joyous atmosphere. The alumni took photos and laughed outside the Wen's Building. A variety of activities such as teacher-student symposiums also organized in Wen's Building and Sericulture Building. The bright smiles were filled with the joy of reunion.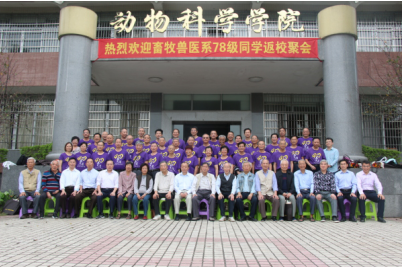 A group photo of teachers and students majoring in Animal Husbandry and Veterinary for 40th anniversary reunion
A group photo of graduates of 1968 majoring in Animal Husbandry and Veterinary for 50th anniversary reunion
"You always say that graduation is nowhere in sight, and you will go your own way in a blink of an eye." How time flies! But it would remember your youth, and you would still be a teenager when you return. No matter how many years after graduation, everyone graduated from South China Agricultural University has a home abounding with love that always belongs to them - -the alma mater. She is always there,waiting for you to go home, when you are in the storm.
There were 10 activities held on the Alumni Homecoming Day, such as alumni entrepreneurs salon, the first alumni enterprise product exhibition, the second alumni enterprise recruitment fair, the teacher-student symposium, looking for a class flag, reminiscence of youth footprints, visiting the school history museum, etc., covering the whole university. Free guides, canteen vouchers, yogurt, etc. were provided for alumni, creating a warm and romantic back-to-home atmosphere in our university.